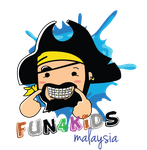 Art & Crafts Workshop
DIY Scrapbooking
Are your children getting lazy spending too much time in front of the computer playing online games?
Hi everyone, my name is Janice from Fun4kids Malaysia. We organize and conduct kids activities with the intention to encourage active learning through hands on activities.
Why is hands-on learning important?
One of the common ways of teaching in Asia is to give children the instructions to do what we want them to do.
Would you agree with me that children understand and remember better if they were given the opportunity to learn by actually doing it even though they might end up making mistakes?
Do you know that it is actually the process of learning that will give a positive impact than the outcome of the learning?
This school holidays, we have put together an interesting hands-on DIY Scrapbooking Workshop for your children to get their hands dirty!
With everything digitalized, how many of you actually have a physical photo book of your children from their birth to date?
This is a wonderful opportunity for your child to learn to create a scrapbook with story of him/herself from birth to date, things/events that he/she loves and enjoys doing to create a memory that last for a long time.
What will the children learn in this 2-day workshop?
basics of doodling, drawing, colour matching and simple crafting

ideas for organising pages to tell themed stories

how to get messages written down leveraging on the creativity of words
Let this workshop bring out the creativity in them! Save your seat NOW!!
Dates: Saturday, 12th - Sunday, 13th June 2021
Time: 10:00am - 12:00pm
Age Group: 6 - 12
Fees: RM120 or US$35 for 2 days