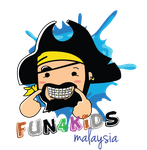 Art & Crafts
Seaworld Clay Workshop
Dates: Saturday - Sunday, 31st July - 1st August 2021
Time: 2:00pm - 3:30pm
Does your child enjoy storytelling and play? This program ignites learners' imagination and creativity through story and hands on clay modelling.
This upcoming Seaworld Clay Workshop will be conducted in July/August online via Zoom around sea animals. Learners will first discuss about different types of sea animals and why we should conserve them. They will then be inspired to create an artwork of their ideal sea world using air dry clay. Learners will learn how to mix colors, shape, mould and sculpt different types of sea animals to fill into their ideal sea world based on their imagination.
How is our workshop different from others?
For every workshop that we teach, we incorporate education behind the artwork. Learners will then remember why they created the artwork and how they got inspired by it, which will leave beautiful memories for a long time.
Most importantly, they were given a show and tell session which allows them to express themselves through their artwork and interact with others!
What you will be getting from this workshop?
1. 3 hours of fun and engaging workshop by passionate facilitators
2. Material kit consists of:
a. 12-pcs colorful air dry clay
3. Basic clay color mixing, molding and sculpturing skills
4. Unforgettable learning experience and opportunity to meet and interact with new friends of the same age group
**BONUS** RM50 off voucher for upcoming Science Holiday Program in August 2021
Students' artwork from our previous workshops